Year of the Goat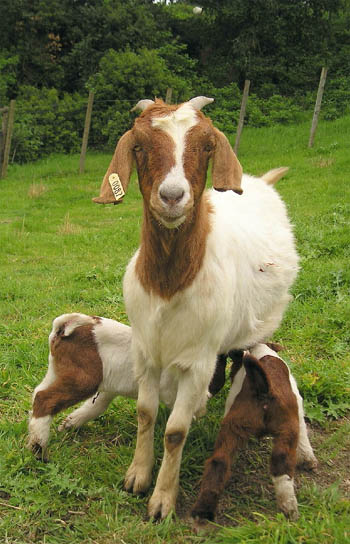 The idea of slaughtering an animal with the intent to stew is something that probably never gets into the head of the urban omnivore. But perhaps it should.
My experience with Tony the Goat over the past couple of months led me through the world of butchering, animal rights activists, birria, animal cops, goat farming, and honky tonk.
I had planned on slaughtering and butchering the goat myself on the day before it would be stewed and served at a honky tonk fiesta in Pilsen. Plans changed when I received warnings from both the IL Dept of Agriculture and the Chicago Police Department Animal Crimes Unit. You can read all about this on the Chicago Reader Blog.
::
If you've ever eaten meat before, then I believe you will identify with this. Imagine the best chicken sandwich or your favorite burger joint. Or maybe you prefer the raw oysters or perhaps some wild caught salmon. Regardless of your meat fetish, I assume the tastiest meal is the one that incorporates the FRESHEST ingredients, preferably fish caught the day of or chickens cleaned that morning. This knowledge is shared by many cultures. Chinese markets offer live fish, chickens, and if you're lucky, live shellfish. Many Latin and African festivals begin with the slaughter of a calf, lamb, or goat. And even the American farmer will tell you that they prefer to eat meat from animals they raised themselves.
So the idea of a goat slaughter dinner, which seemed barbaric to some, is really something sacred and important. The "Birria" or "Goat Stew" tradition goes back to Guadalajara Mexico. Typically, the goat is slaughtered and butchered at dawn, while other family members prepare the chiles and spices for the rub. The seasoned meat is placed in large clay pots, covered with Agave Paddles to cover and seal, and stewed over a wood fire for at least 8 hours.
It's really a spectacular meal, so much so that it has been savored by dozens of wedding parties I have attended over the years. This was my inspiration for the goat dinner and it's what led me to a small boer goat farm near Coal City, IL.
I started my search on eatwellguide.org, a great website that lists farms, stores, and restaurants with wholesome and sustainable foods in the US and Canada. This ultimately led to me to the goat farm and Tony, a young South African boer goat buck. Now, I did not name the goat. He was named by the farmer's wife after he was befriended by her pet goat Harvey. But this is how things work on the farm.
I tracked his growth and progress through conversations and emails with the farmer until it was finally time to pick him up for butchering. With a secret location for the slaughter arranged, and dozens of dinner guests eager to get a taste of this traditional stew, all was ready to go. That is until the wrath of PETA and the US Humane Society finally caught up with me via some emails from the IL Dept of Agriculture and the Chicago PD.
This was my dilemna: How do i find the hardcore foodies that will appreciate the goat dinner and give them access to this experience without attracting the attention of those who would try to shut it down (for the wrong reasons)?
It was not an easy task by any means, one that required not only a Plan B, but a C and a D as well. I was determined to make this happen, but in the end, Plan D was executed. I needed to buy USDA inspected goat meat and I needed to get it quick. I found a restaurant supply store on Division with imported goat meat from Australia.
Yup, Australia. So basically, instead of serving fresh meat that was locally raised, I had to serve meat that traveled thousands of miles frozen on an ocean vessel all the way from some who-knows-where farm down under. Ah yes, irony.
…I wonder what the folks at PETA and the US Humane Society would opine about that. Would they protest the killing of sea birds and fish killed during transport? Would Greenpeace protest the pointless pollution caused by the ocean vessel bringing food we already have here? And why do the animal rights activists always assume that when a guy slaughters a goat for food, he is also kicking it and abusing it?
There are plenty of worthy adversaries out there for the animal rights crowd, such as corporate factory farms, and those mean bully kids that do mean things to cats and dogs. I will be happy to point them in the right direction, so's I can eat my birria in peace.
Back to the birria…
The goat dinner happened as planned in Pilsen on Sunday night and it was a great party. We had 65 dinner guests and the aussie birria was delicious. My great friend, Chef Becca came out from San Francisco to help in the kitchen.
The Honky Tonk band rocked the house that night and we even served a party of 8 hardcore foodies at a table in the kitchen. Many birria newbies and skeptics were converted, and the mix of slide guitar, rich broth, and wine gave us all something to talk about.
In the spirit of the wedding feasts of the past, the goat stew inspired a festive celebration.
But what about Tony?
Well, a couple of days after the goat dinner, my friend Dave Kim and I drove out to the farm to pick him up. I had made a deal with the farmer and I had no intention of going back on our agreement. I made arrangements at a local Chicago slaughterhouse to bring in the goat where they would slaughter and butcher him for me in their licensed facility.
Aside:
I should say here that although I personally am not licensed to slaughter or butcher animals, over the years I have been involved in dozens of slaughters including pigs, steers, goats, and chickens. It is not fun for me to do this. Like I said before, it's a lot of work and kind of messy as you can imagine, but it's good to know where that meat comes from and to know the animals. In the end, I am more concerned about cooking and serving good food for my guests, but I appreciate that connection to the food as well.
Back to Tony…
We picked up the meat the next day. The people at the slaughterhouse were incredibly friendly and knowledgeable and I even got a mini tour of the place. The family that runs the place has been there for 3 generations!
It was once again time for Birria, but this time with local meat, aka Tony. So a couple of days before Thanksgiving, after 3 hours of preparing the rub, I put the stew on the burners. A few text messages and emails later, there was a dining room full of dinner guests hungry for Birria.
Omnivore and food writer David Hammond stopped by and captured some photos of the stew. You can check them out on LTH Forum.
http://blogs.chicagoreader.com/food/2007/11/13/spiked-underground-goat-slaughter/